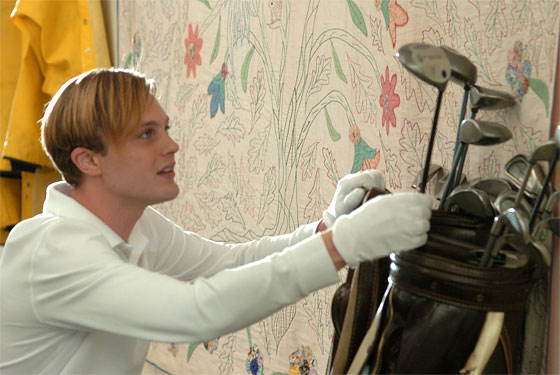 DVD Releases for 6/10/2008
This week's DVD rack contains everything thing to family torturing psychopaths to Satanic Sluts for the Delectation of Satan! (Got your attention now, don't I) With a good mix of new releases and re-releases, there's bound to be something to please everybody out there.
[Inline:funny games.jpg]
The indie flick that did "The Strangers" before "The Strangers" did, "Funny Games" hit's the DVD shelf. Word of mouth was decent on this one and with Naomi Watts and Tim Roth in the lead roles, it gets bumped up to the interesting list.
[inline:Otis.jpg]
"Otis" is a horror comedy starring Daniel Stern. Do I really need to say more than "horror comedy starring Daniel Stern"? I don't think so either, but I will anyways. "Otis" tells the story of a kidnapped girl, her pissed off parents, and the incompetent FBI who are trying to find her. Crazy antics are in store for sure.
[inline:the planet.jpg]
This week sees the release of "The Planet" which I reviewed last week. It's not great, but I've seen worse. If you're brave, check it out.
[inline:organizm.jpg]
"Organizm" is bound to be extreme because they swapped the 'S' with a 'Z'! That's how that works, right? Regardless, "R-rom R-ight"'s (
[inline:curse of the devil.jpg]
[inline:werewolf shadow.jpg]
Too Paul Naschy classics hit the shelves this week with "Curse of the Devil" and "Werewolf Shadow". Naschy is a Spanish horror icon who contributed much to the genre over the years. My experience is that his films are often a bit goofy and not all that scary, but it's worth checking out for the history aspect alone.
[inline:black mass.jpg]
From the box:
"Black Mass was a truly satanic nightclub that existed for just over a year and which was banned from two venues before it even began. It opened its doors on the last Sunday of each month when its eclectic members would be treated to a range of performances that were sometimes bloody, often blasphemous, very sexual and occasionally dangerous but never dull. Performed by members of the all female collective known as the Satanic Sluts for the delectation of Satan each night was a true evocation of Hell.
Shown here are edited highlights from each Black Mass, including scenes of crucifixion, defiled nuns, sacrifice, voodoo, cannibalism, Nazi Go Go dancers, vampirism, satanic cheerleaders and a real Black Mass!"
I have no idea if it's any good or not, but they had me at 'satanic cheerleaders'.