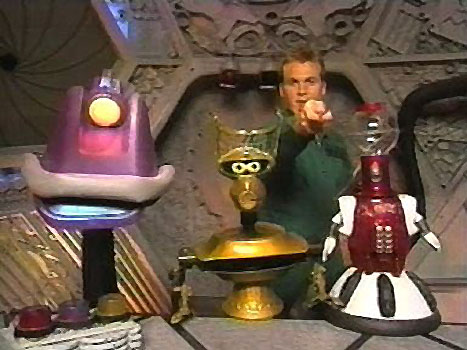 This week's DVD Delivery promises nothing but shock, schlock, and other sundry titles that all spell out the same thing: This is an off week. No huge features slated for the week of 5/6, there's still a couple of disks you owe it to yourself to check out and some direct to DVD Dookie that's probably best left behind. That said, here's the week in DVD!
[inline:mst3k.jpg]
Mystery Science Theater: The Movie was the culmination of years of Television toil for Mike and the Bots. Lampooning the classic "This Island Earth", the movie may have paled some in comparison to the highly loved series, but it's part of the package all the same. With the DVD disappearing into out of print obscurity for many years, now is your chance to complete your collection!
[inline:teeth.jpg]
VAGINA DENTATA! We've all heard of Teeth by now, the story of a high school girl becoming familiar with her body and the dealings of horny high school boys, and the discovery of teeth in her va jay jay. Now, you can finally see it for yourself.
[Inline:abominiable.jpg]
Abominable leaves little to the imagination; it's about Bigfoot folks. Starring genre legend Lance Henriksen and "Police Academy" stalwart Matt McCoy, and Jeffery freaking Combs. Find out what happens to frisky college kids out in the woods. Feel free to find out what I thought awhile back as well.
[inline:bloodsuckignbabesfromburbank.jpg]
"Passionate archeology students unearth a cursed jewel box in the Burbank mountains that turns the females into blood-thirsty cannibals and the guys into "dinner"" Is it any good? Hell if I know. But with a name like and the promise of boobs, you can call me 'interested'.
[inline:deviltimesfive.jpg]
Devil Times Five is a 1974 psycho thriller that gets picked up by the budget DVD studios a lot. Whether it's worth the effort, I don't know. My wife says it's decent though. And it stars Leif Garrett. Who can pass up a chance to laugh at Leif Garrett?
[inline:theforest.jpg]
The Forest is a 1982 slasher/cannibal hybrid that released to little to no fan fare, and promises to be much the same this time around. Landing solidly in the bargain bin, you should be able to score this bad boy for under $5. Even then, it's probably still to much. Review coming soon.
[inline:thecar.jpg]
James Brolin visited the killer car genre in 1977's The Car; and now you can too! This one garners interest because of the patented 1970's schlock contained with in and because, let's face it; James Brolin was a badass.
There are a handful of other titles out this week, most of not all titles that have never been heard of. A slow week for DVD releases for sure, there are still some titles out there to be had. So, suck it up, be brave, and check out some direct to DVD fare. You know you wanna.