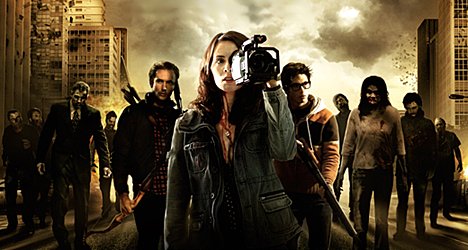 Another off week this week as we get two big name releases and a handful of fluff. Still, there's some decent stuff to be found in your DVD aisle this week!
[inline:diary of the dead.jpg]
George Romero's Diary of the Dead hits shelves this week, much to Schnaar's chagrin.
[inline:notld.jpg]
In honor of the release of "Diary", Night of the Living Dead gets the 40th Anniversary redux treatment. Promises of a remastered treatment, new features, all sorts of good stuff. Granted this is about the 40th redux of "NotLD" but you know, if you don't have it now's a good time to get it.
[inline:lost colony.jpg]
THERE CAN BE ONLY ONE role for Adrian Paul, but apparently I'm wrong! Lost Colony: The Wraiths of Roanoke pits the lonely highlander as a leader of the storied Roanoke colony who's denizens disappeared mysteriously. Judging from the zombie/ghost/...thing on the cover, I'm going to guess they're not angling for historical accuracy here.
[inline:darkest hour.jpg]
Hey look! It's generic serial killer slasher of the week, Darkest Hour! A group of theater nerds revisit the former stomping grounds of a skull faced maniac to have a murder mystery party! People die, drunk theater people get confused! There you have it.
[inline:grapesofdeath.jpg]
Regardless if it's any good or not, with a name as awesome as Grapes of Death, how can I not be interested? Jean Rollin's French zombie features bear a certain quality that is unique to monsieur Rollin. It may be an acquired taste for some, but they're generally worth a look for the Zombie afficionado.
[inline:jekyllandhyde.jpg]
The Strange Case of Dr. Jekyll and Mr. Hyde sports Tony Todd (THE Tony Todd) as the classic mad doctor. Color my interest piqued. Keep in mind, it's got 3.6 stars on IMDb. Also keep in mind, my views are jaded: I consider anything under 5 stars a challenge.
[inline:slashers.jpg]
The 2001 indie joint Slashers took a tongue through cheek look at the Japanese Game Show industry. I can attest to this one being actually pretty damn good for low budget fare.
Enjoy!