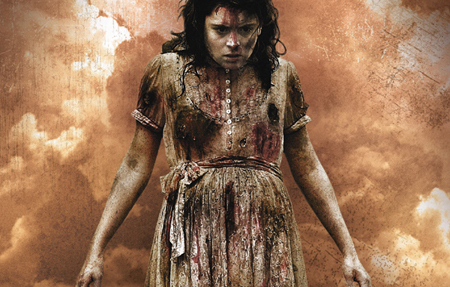 DVD Releases for 5/13/2008
Horror DVD's are sparse this week but at least half are worth your attention. That's a 50/50 split, and that's a rarity in this day and age! So sit right back and hear a tale, a tale of a fateful trip...down the new release aisle.
[inline:botched.jpg]
Stephen Dorff is back along with a cast of merry misfits. Tales of heists gone wrong, crazy shut-ins, and Jaime Murray and her legs! Curious, be sure to check out the review for "Botched"!
[inline:thecottage.jpg]
"The Cottage" continues the bungling criminal trend this week as we get to watch Andy Serkis in his own skin for a change. He and his brother kidnap a local crime bosses daughter only to discover that there's something far worse than them roaming the country side. Decent flick, watch for the review later this week!
[inline:frontiers.jpg]
"Frontier(s)" finds our bungling thieves heading to the countryside to hide as well. This time around, they encounter a group of neo-nazis! If you haven't heard of this one, it's time to renovate your cave. With heavy word of mouth the verdict is still out on this After Dark Film Fest entry.
[inline:classicscifi.jpg]
I have forever been a sucker for the bargain '10 movies for $10' horror sets. There's always a few gems packed in amongst the turds. Classic scifi sets aren't as prominent out there so the introduction of the "Classic Sci-Fi Ultimate Collection" is a welcome set indeed. Feast your eyes such monster classics as "The Mole People", "Tarantula", "Dr. Cyclops" and many more!
That was the good stuff....
[inline:timberfalls.jpg]
"Timber Falls" carries on the long burning torch of 'crazy rednecks in the woods'. This time around it's a young couple that gets tormented. Whether it's good or not, I can't tell you; what I can tell you is that there's so many 'crazy bastards in the woods' movies out there, they've got a long road to tow to make themselves stand out.
[inline:amateurpornstarkiller2.jpg]
"Amatuer Porn Star Killer 2" is the second graphic porn star indie joint from director Shane Ryan. The first one wasn't our cup of tea so proceed at your own risk. I'll give these guys credit for one thing though, they're working like mo-fo's to get the word out on this. They bomb my mailbox at least once a week with press releases!