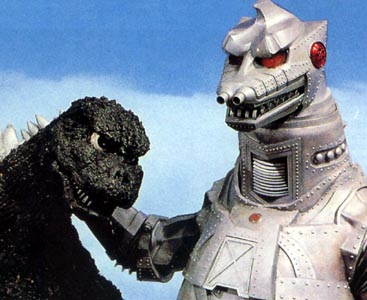 The week of 4/29/08 kicks off a flood of re-release discs and a little bit of old fashioned foreign frights. From Godzilla to Zombies, this week offers plenty to watch, and on a budget no less!
And since we're talking DVD's here folks, don't forget to check out our contest where you can win your very own Cloverfield DVD! (Again I stress; you need to see this shit. Now's your chance to do it for FREE!)
[inline:all monsters attack.jpg]
[inline:mechagodzilla.jpg]
It's a giant monster double feature with All Monsters Attack and Mechagodzilla! In our household, there's no better way to spend a Saturday morning than with men in giant rubber suits. I suggest the same for your house too! (Kids love this shit, trust me!)
[inline:boarding house.jpg]
Following on the re-release train is 1982's "Boardinghouse"! With this description in the IMDb entry, "a cross between "The Amityville Horror" and a Playboy Playmates video", do I really need to say more? I think not.
[inline:don't go in the woods.jpg]
The early 80's worked hard towards making you afraid to go camping and "Don't Go In the Woods" is a prime example. Watch college co-eds camping and running about in faux darkness as crazy rednecks go on a killing spree! Wait, why am I being sarcastic, I'd watch that.
[inline:new york ripper.jpg]
Lucio Fulci was in his prime in 1982 as is apparent in his own slasher opus "The New York Ripper". Be sure to check out Eric's love song to this oft overlooked classic.
[inline:nightmare city.jpg]
What's a list of early 80's re-releases without some Italian Zombie fare? "Nightmare City" fills that gap with with a blood and guts flare that only Italy can provide.
[inline:schizo.jpg]
Rounding out our nostalgia trip we have the US DVD release of 1981's "Schizo". Escaped mental patients on a confused rampage sounds like some good old fashioned slasher fun. Whether it's fun or not? Hard to say.
[inline:knock knock.jpg]
[inline:in the blood.jpg]
Finally we jump back to modern times with "Knock Knock", 2007's take on teen aged angst and confusion combined with being named 'Rico' and being the son of an undertaker. (The first Emo horror feature? Quite possibly, I must investigate.)
"In the Blood" sounds like like 2006's take on angsty college co-eds dealing with sexual confusion and a random murderer on campus. I don't know how Cassidy's sexually confused friend 'horn dog Mike' plays into the story, but I'm thinking this one's telegraphed from the description on the back of the box.