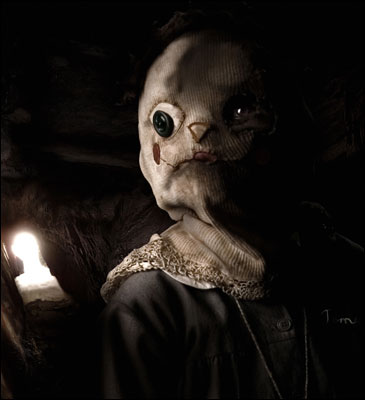 This week our horror DVD's run the gambit from 'must have' to 'oh god run away'. Read on for a glimpse of the what's out there for the week of 4/22!
[inline:cloverfield.jpg]
It's probably not, but by god it feels like this is one of the fastest theater to DVD turnarounds yet. Regardless, today Cloverfield hits the streets and frankly, you should be buying it. Louis is going to disagree, but from my viewing this weekend, this one is just as enjoyable on DVD as it was on the big screen.
[inline:orphanage.jpg]
Promising to be the latest and greatest Spanish creep fest to hit the shelves, The Orphanage hits American shores today! Spanish horror has a distinct flair to it and this one looks to be in line, especially as it's produced by Guillermo Del Toro!.
[inline:one missed call.jpg]
While I never claimed these would be 'good' movies, another in the long line of American remakes of J-Horror is out in the form of One Missed Call. Cool yet zany DVD Cover aside, there's not been very many kind words for this feature over the internets since it's theatrical release; somewhere though, there is someone obsesses with Shannyn Sossaman, and that person will be a very happy camper this week!
[inline:seance.jpg]
Seance tells the tale of college kids screwing up an attempt of getting rid of a little girl ghost, only to bring back a big girl ghost. (Note: May or may not be a big girl ghost) (Note: would probably be a lot more interesting if it was a big girl ghost.) Regardless, this one stars The Highlander TV Series very own Adrian Paul! Which doesn't help much.
[inline:black house.jpg]
I was going to make a witty comment about being the first to see the original Black House before it was remade by American studios making you high falutin' and all that. Turns out, you're running out of time. "Jun-oh, an insurance claims agent, faces off with a client who he suspects of committing murders with the intention of collecting insurance premiums." Yawn.
[inline:sick nurses.jpg]
The cover of Sick Nurses features two lovely Asian nurses with a knife. While we all have wanted to see a movie like that at some point in our lives, this site is dedicated to horror! This one gives the best of both worlds as the sexy organ harvesting nurses get haunted and picked on by the ghost of a dead patient. Is it good? Who cares! Hot Asian nurses!
[inline:demons and witches.jpg]
I've long been a sucker for the '10 Movies for $10' box sets that are heavy in the horror genre. Generally, they're chock full of awful horror. Then again, C through Z-grade horror's my thing! Demons and Witches promises to be more of the same.