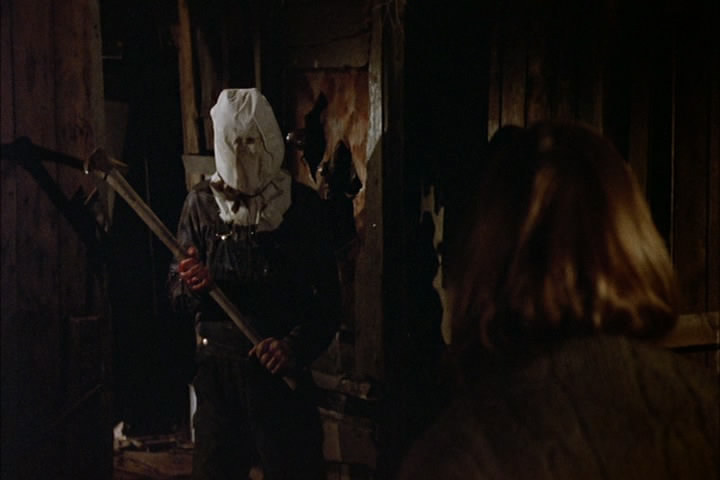 DVD Releases for 2/3/2009
The holiday months were pretty light as far as new releases go, but February marks their return with a vengeance! A full 13 titles to mark the re-release of Friday the 13th? Coincidence? Maybe.
[inline:f13dvd.jpg]
Today is the day you can get your grubby little paws on the stellar re-releases of "Friday the 13th". The first movie contains the uncut footage that was formerly unavailable here in the states, and the rest hold a top notch transfer bring the bloody fun of Camp Crystal Lake to the forefront. We've had tons of coverage on these DVD's and the franchise here of late, so be sure to check out my review of the DVD's, Eric's look at the extra features, and Eric's kick ass Top 10 Deaths from Friday the 13th video!
[inline:jasoncover.jpg]
"His Name was Jason" is an in depth documentary covering the history of "Friday the 13th" with tons of details and goodies. Always one to find out more about my favorite slasher, this one is high on the to buy list. Be sure to check out Eric's preview of the disk!
[inline:blackswarm.jpg]
Black Swarm gives us the 'ultimate buzz kill' as the tag line reads. Killer wasps! While that in itself doesn't sound like a very exciting TV movie, it does have Robert Englund in it!
[inline:bloodpredator.jpg]
A plane crashes in the snowy peaks of the Sierra Mountains leaving the seven survivors stuck in the snow with no rescue in sight. Once they decide to locate the crashed plane to salvage the radio, they discover an alien out of nowhere that multiplies and drags people into their maw with a barbed tongue! Blood Predator sounds cheesy, but sometimes cheese is good.
[inline:deadnoon.jpg]
Dead Noon tells the tale of Frank the Bloodthirsty Outlaw, returned from hell to wreak revenge on a small western town. Undead cowboys are a seldom used plot commodity these days, so there's that. It also stars Kane Hodder as a zombie cowboy!
[inline:killermovie.jpg]
Continuing the trend of stranded people stepping in as prey, Killer Movie focuses on a reality TV Show/Movie/Satire. Things are run of the mill until a masked killer shows up to start killing off contestants. Is it just me, or does anybody else think this is out Raimi's "13: Fear is Real" is going to turn out?
[inline:nitetales.jpg]
There is little information available for the plot of the BET original horror flick Nite Tales, but it stars Flavor Flav and Gary Busey. Do you really need any other excuse to watch this?
[inline:paurafulci.jpg]
Paura: Lucio Fulci Remembered is another horror documentary chronicling the life and times of "The Godfather of Gore", Lucio Fulci.
[inline:sickdead.jpg]
The story of three survivors of a zombie plague, The Sick and the Dead shows us the changes that took place in our once seemingly normal survivors after a year of staying alive. One becomes a bloodthirsty psycho, one becomes a survivalist, and one...an unlikely hero.
[inline:sigmadie.jpg]
For Sigma Die, I'll crib from IMDB:
Hell night. 1985. On a small,midwestern college campus, four men are executing a very important rite of passage. The panty raid. But something goes terribly wrong and one is left behind to fend for himself, thus beginning the legend of Zeta house. Now, more than two decades have passed, and we find five "Zeta" girls renting an off campus property for summer vacation. They are not alone. Crashing the party is their house mother, two disturbing caretakers and a group of beer swilling, wise-cracking frat boys, along with someone who is on the outside watching, waiting for their chance to join the fun!
Sorority girls, Joe Estevez and Reggie Bannister. It may only have a 1 star rating on IMDb, but I'll give it a shot regardless.
[inline:smalltownfolk.jpg]
It's been a week or two since we've had a release of a crazy redneck horror flick, so Small Town Folk. It sounds like it follows the formula spot on, although one dude appears to drink diesel fuel a lot. It's got that going for it I guess.
[inline:thebloodyape.jpg]
A B-Movie rendition of Poe's "Murders In the Rue Morgue", A Bloody Ape. A carnival barker releases his 400lb gorilla on an unsuspecting town, resulting in blood gore and a pissed off monkey.
You know, I'm a real sucker for monkey's. Especially talking ones.
[inline:thesistersfour.jpg]
Traci Holmes suffers from nightmares, eventually revealing to her fiance that she grew up in an orphanage with questionable happenings in her past. As he he digs deeper he discovers a series of murders at the orphanage, and now he fears that Traci will be next. The Sisters Four sounds pretty run of the mill and I'd lay money on the odds that there's a big TWEEST ending as well!