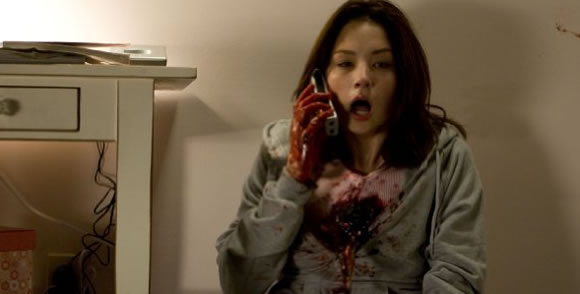 DVD Releases for 2/24/2009
It's a whole new week in the new release aisle and there are plenty to choose from. Everything from Eric Roberts and giant computerized Cyclops, Argento flashbacks, teen age possessions, and scantily clad women dressed like Batman stake their claim this week!
[inline:forfliesongreyvelvet.jpg]
Four Flies on Grey Velvet is another giallo from the master of the genre, Dario Argento. A twisted tale of a musician being stalked by a killer, as well as being framed for the death of another stalker, this one promises to be a confusing mystery with the patented Argento atmosphere.
[inline:lasthouseontheleft.jpg]
With the remake arriving in theaters soon, it is no surprise that there is a brand spanking new and unrated cut of Wes Craven's Last House on the Left. For those of you who have been waiting on seeing this, now's the chance to catch a horror classic before we argue the merits of the remake in agonizing detail!
[inline:cyclops.jpg]
What's a DVD Release column without a SciFi Channel original? Fear not because this week we get our hands on Cyclops! Emperor Tiberius makes people fight against a monstrous cyclops in the gladiator arenas. Eventually, General Marcus gets tired of it, befriends the cyclops and together they fight merrily to over throw the evil emperor!
While yes, it does indeed sound like crap, it stars Eric Roberts as the evil emperor. And we all know, Eric Roberts kicks ass.
[inline:epitaph.jpg]
Korean scare fest Epitaph contains three intertwined tales centered around a haunted hospital in the 1940's. In the first tale, a young medical student becomes infatuated with a dead girl. In the second, a young girl who survived the car crash that killed her parents appears to be in a state of shock. What they don't know is she's being visited by her dead mother. In the final tale, two autopsy doctors investigate a string of Japanese soldier slayings.
[inline:greeneyedmonster.jpg]
A group of friends travel to Texas to find a buried treasure. Instead, they find a monster lurking within themselves. Green Eyed Monster sounds run of the mill, so I'm going to head to Texas in search a nap.
[inline:hauntingofmollyhartley.jpg]
The Haunting of Molly Hartley came and went with little fanfare, which is hard to believe with the pretty cast and the captivating story of this awkward teen girl dealing with a new school and not knowing what horrors await her when she turns 18! Egads! Whatever will she do?
[inline:redsands.jpg]
Red Sands could possibly be our surprise hit for the week. A group of US Soldiers in Afghanistan destroy a statue out of boredom, only to release a vengeful supernatural spirit. Mixing in lore on the Djinn, a horror staple we haven't seen for awhile, my hopes are high we might get something original!
[inline:scourge.jpg]
Ancient critters that were entrapped in the masonry of a local church are set free to devour the country side in The Scourge.
[inline:batbabe.jpg]
Batbabe: The Dark Nightie. It's not horror, but how can I pass up a title like that?!?!