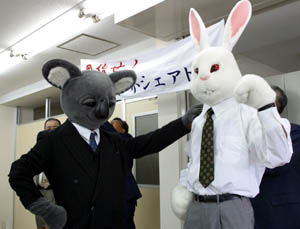 DVD Releases for 11/18/2008
The beginning of November has been sparse as Horror DVD's go, and remains so as retailers gear up for the black Friday onslaught! We still have a couple of titles worth investigating though on the New Release shelf!
[inline:hellboyII.jpg]
"Hellboy II" was the only vaguely horror release on the shelves last week, so it's getting an honorable mention this week. That's because, it's a great flick and if you haven't seen it yet, you need to.
[inline:zombiediaries.jpg]
I reviewed "Zombie Diaries" recently and didn't care for it too much. However, many of my cohorts on the internet tell me I'm wrong! So...now you can be the judge!
[inline:thedevilscurse.jpg]
"The Devil's Curse" tells the tale of a group of theological students attempting to prove the existence of Hell. This gang ends up dead as you can imagine, and five years later a new group of students break into their digs to find they're not alone! Spooooooky.
[inline:executivekoala.jpg]
"Executive Koala" is so awesome, I can't do it justice in a summary. So, I crib direct from the Amazon product description:
"Tamura is an average Japanese salaryman working in the offices of a pickle distribution company. He is well liked in the office, hard-working, polite, wears a suit and tie, and also happens to be a six-foot tall koala bear. But when his girlfriend Yoko turns up dead one day and Tamura is the chief suspect, he is forced to enlist the help of his boss (a white rabbit) and a friendly convenience store attendant (a frog) in order to prove his innocence. A psychological thriller wrapped up in the packaging of a nonsense comedy with giant animals EXECUTIVE KOALA is like nothing America has ever produced...which is why it was made in Japan!"