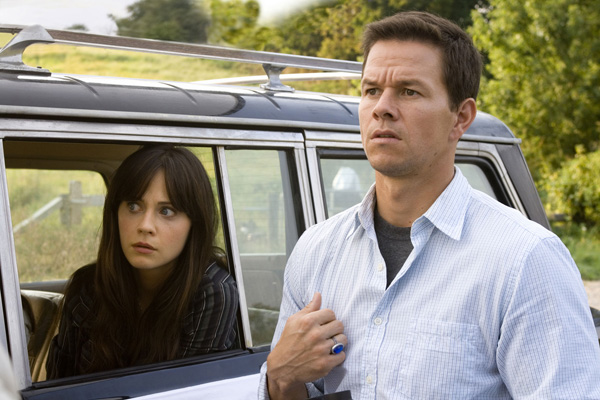 DVD Releases for 10/7/2008
Well folks, I think I failed you last week and forgot to bring in the DVD love! Last week was full of chaos at the Casey Compound, so little room was left for writing. Now though, we're back so hang on tight cause we have a big load of DVD releases to give you!
[inline:thehappening.jpg]
M. Night Shyamalan casts Marky Mark as a science teacher! How much closer to horror can you get? This far fetched tale of a cataclysmic event was panned by many when it hit the theaters; if you missed it then now's your chance to pan it too!
[inline:feast2.jpg]
Feast II: Sloppy Seconds is the sequel to 2005's Project Greenlight hit "Feast". While the first was decent, I didn't really hear anybody calling for a sequel! But here it is anyway! Out from Dimension Extreme, check back later this week for a full review!
[inline:halloweencollectors.jpg]
Last year Rob Zombie squeezed out his own take on Halloween. This year we're gonna squeeze out a collectors edition of the remake/revamp! 3 disks packed with commentary and a 4.5 hour making of documentary set to make this disk 'special' indeed! Stacked on the screener pile just below "Feast 2", check back once again for the review in a few days.
[inline:jackbrooks.jpg]
People have been waiting for months to get a shot at Jack Brooks: Monster Slayer to see what it's all aboot; now you can! Robert Englund as a giant rubber turd monster cannot be beat. Seriously. Check it out and be sure to check out Eric's intereview with director Jon Knautz on the front page as well as a "Jack Brooks" DVD Giveaway!
[inline:joyride2.jpg]
Joy Ride 2: Dead Ahead is the sequel to...wait a minute. There was a "Joy Ride 1"? This direct to video dropping is so out of nowhere I can't even tell you what it's about. Judging from the cover however, some chick gets squashed by a truck.
[inline:muensterscomplete.jpg]
For many TV fans, horror on the small screen started with "The Muenster"! Honestly, who doesn't love Fred Gwynn's Herman? Now you can own the entire series in one handy set for a fairly reasonable price.
[inline:psycho.jpg]
[inline:rearwindow.jpg]
Finally, Universal kicks off its "Legacy Series" with two Hitchcock masterpieces, "Rear Window" and "Psycho". If you're not familiar with these two flicks, you've been living under a rock. If these aren't on your shelf yet, now's your chance to snatch them up in remastered glory.