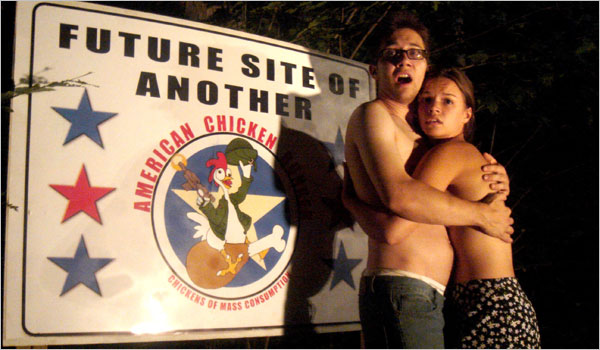 DVD Releases for 10/28/2008
Resent weeks at the DVD shop have been slow, but this week we get heaped upon with a handful of solid disks, just in time for Halloween scares! There's splatter, there's satire, there's even boobies. Read on for a look at what's new this week in DVD!
[inline:mst3k.jpg]
Does anybody REALLY need an introduction for MST3K? I didn't think so. This 20th Anniversary set brings two main thoughts to mind; 1. Holy shit, it's 20years old!?!?! and 2. Man, I miss this stuff. Packed with the classic episodes First Spaceship on Venus (1960), Laserblast (1978), Werewolf (1996), and Future War (1997) and some extra goodies such as a statue and some lobby cards, this is a must buy for any fan.
[inline:zombiestrippers.jpg]
Zombie Strippers has been touted here on the site as being a great horror flick, directed by Jay Lee. Plus, it's got Jenna Jameson with zombie boobies!
[inline:poultrygeist.jpg]
Finally after years of threats and promises, Troma Studio's "Poultreygeist" hits the shelves! Everybody needs to see a feature length musical based on were chickens. Everybody.
[inline:deadspace.jpg]
Mark treated us to a great review of the XBox 360 version of Deadspace last week, now you can catch up on all of the online cartoons in this new feature length movie designed to further to story with new animated scares.
[inline:pieces.jpg]
Touted as a classic and one of the original slashers, "Pieces" is a 1982 foreign splatter fest that promises mondo gore and scares. Having not aged quite so well, there is till a good movie packed away here and is worth your time for the history of it, if nothing else.
[inline:thebeyond.jpg]
"The Beyond" is a Fulci splatter classic finally seeing it's way to our DVD shelves thanks to Grindhouse Releasing. "Behind this doorway lie the terrifying and unspeakable secrets of hell. No one who sees it lives to describe it. And you shall live in darkness for all eternity." I have yet to watch it myself, but I've heard good things. Now's your chance to see if those rumors are true.
[inline:red.jpg]
"Red" is the newest movie based on a Jack Ketchum novel, starring Brian Cox. Originally directed by Lucky McKee, he was ousted earlier on with the film finished up by Trygve Allister Diesen. The controversy has led to mixed reviews, but Brian Cox waxing psychotic is always intriguing.