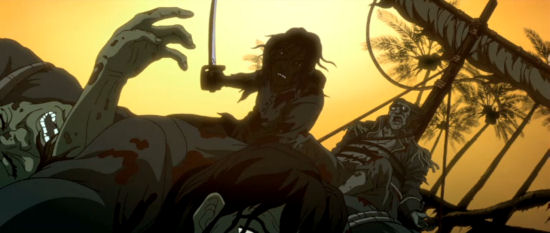 The Bargain Bin is running light this week as DVD Tuesday rolls round, but that's okay. Aside from the store front being raped by rabid fangirls flocking for the sparkling un-dead of "Twighlight", there is little left in the way of shelving anyways. Seriously, those ladies are dangerous!
This week we see the highly anticipated release of the "Watchmen" animated companion piece, "Tales of the Black Freighter" as well as two highly anticip... Oh I can't do it. Read along to see the remainder of the loaf squeezed out in the two SciFi Channel originals joining the Watchmen!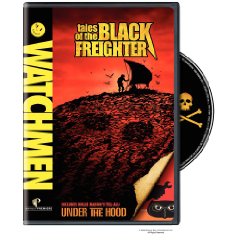 The highly regarded story within a story finally comes to life after the big screen debut of the "Watchmen". An animated twenty five minute short, "Tales of the Black Freighter" brings to life the allegory that wowed readers of the novel originally. Featuring the voice talents Gerard Butler, if you're a fan of the movie, just go buy it.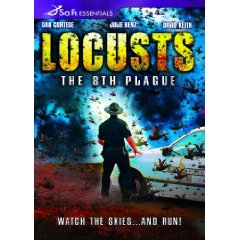 In Locusts: The 8th Plague a group of scientists fight to save the world from a plague of man eating locusts that escape from a government lab! Starring "Dexter" sweetie Julie Benz, this is sure to be a movie that she looks back on and says "Uh, that was my sister."
I don't really know which is scarier; the man eating locusts, or leading man Dan Cortese of MTV Fame.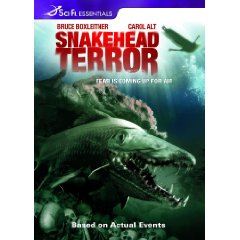 In Snakehead Terror the SciFi Channel finally get crafty with their titles! It's about fish! A small town is suffering from hard economic times as well as a nuisance of Snakehead fish start to overtake the local lake. Surviving the previous attempt to poison the lake, the fish are already pissed off. Then somebody decides to dump human growth hormone into the lake causing the fish to mutate it to overly large flesh devouring super fish!
Run away!